The coverless design of the small Bamboo Slate means nothing gets in the way of your creativity. Wherever you are, your paper is at the ready. Instantly digitize your handwritten notes and diagrams in remarkable detail – at the simple push of a button. You get all the magic of working with real ink, but can then edit, share and organize your handiwork with digital ink. Bamboo Slate converts your handwriting and drawings into 'living' digital files.
Features
Sync your notes, sketches and ideas and access them from your device using our Inkspace App
Smartpad picks up subtle changes in pen pressure even through 80 sheets of paper
Compatible with whatever paper you prefer to write on
Comes with a comfortable Wacom Ballpoint pen, with replaceable ink cartridges
Ample writing space and the perfect size for someone who likes to think and create on the go
This smaller A5 size is great for ideas on-the-go as it stows easily, and is the perfect companion during any meeting
A visual thinker's best friend
If you think in diagrams, graphs and mind-mapping, Bamboo Slate is the perfect companion. The pen and pad accurately pick up all your unique handwriting quirks, meaning no details are lost. Putting pen to paper is just the start. When you're ready, you can sync your notes and ideas to the Wacom Inkspace app and develop them digitally.
Inkspace Basic
Wacom Inkspace is an app that helps you nurture work created on paper. You can transform handwritten notes into text; and turn sketches into image, vector or video file formats – ready to edit in your favorite creative programs. Inkspace works in harmony with our Bamboo Folio smartpad, enabling you to craft, enhance and share ideas more effectively than ever before.
Vectornator App
Enjoy direct workflow: from paper drawings to vector editing. More flexibility with professional vector software as mobile app for iPad. Edit hand-drawn images as full-vectored document. Start working on desktop and continue working on Vectornator on iPad or vice versa.
Bamboo Paper
Bamboo Paper, an app that turns your mobile device into a paper notebook, is the perfect complement to the Wacom Inkspace app. You can easily further edit and refine your captured thoughts and ideas in Bamboo Paper. The app offers different color palettes, tools and the ability to add and annotate on images. For easy sharing and syncing content, Bamboo Paper also has the Inkspace cloud service integrated.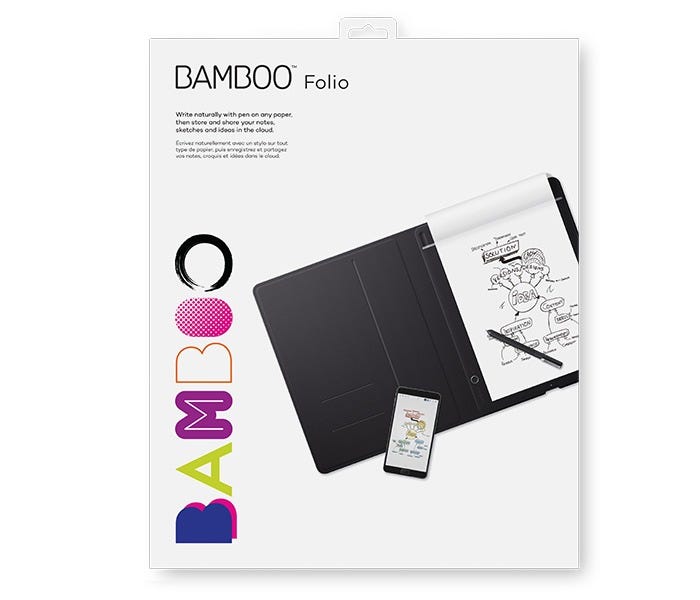 What's included
Bamboo Folio with notebook
Pen with one extra refill
Micro USB cable
Quick start guide